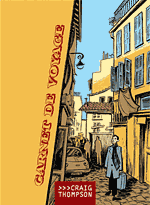 Yesterday I finished
Carnet de Voyage by Craig Thompson
(which I wouldn't recomend, unless you like depressive, meta self-criticizing graphic novelists [trendy, i guess, as it's in fashion with the graphic memoir buzz] with amazing brushwork talent [I did enjoy Thompson's
Blankets
{despite the exact things I didn't enjoy about
Carnet de Voyage
} and
Good-Bye, Chunky Rice
]) by like 10:30AM, so I was bored all day at work with nothing to do except look at crap online. For better or worse,
MySpace
and
Facebook
are blocked so hours of
MarriedToTheSea.com
and
CuteOverload.com
became boring.
Today I brought
A Heartbreaking Work of Staggering Genius by Dave Eggers
, which is so cumbersome to read I doubt I'll read much more. I loled at the introduction parts, but the story itself is grating to me because of the stylized writing style. This really suprised me, because I was so certain of how much I would enjoy the book. We will see. And since I can't stand being tied to one book at a time, I also brought in (keeping with the recent past pop lit theme)
Extremely Loud and Incredibly Close
by Jonathan Safran Foer (I loved
Everything is Illuminated
in high school [did anyone see the movie? was it good?]) and
The Orchid Thief
by Susan Orlean (I've wanted to read forever). I bought the later 2 for $.50 at a yard sale and $.99 at the thrift store. So needless to say, I am stoked about having a job that allows me to read a fuck ton. Are there any books you want me to read? Next on my to read list is a portion of the "Books I didn't read in school" section:
The Old Man and the Sea
by
Ernest Hemingway
,
Nausea
by Jean-Paul Sartre, and
The Sound and the Fury
by William Faulkner.